20th Anniversary!
Submitted by Michael on Thu, 04/19/2012 - 10:47
Birthday Party: Saturday April 28th, 1-4 p.m. (Exhibition: April 3rd to May 28th, 2012)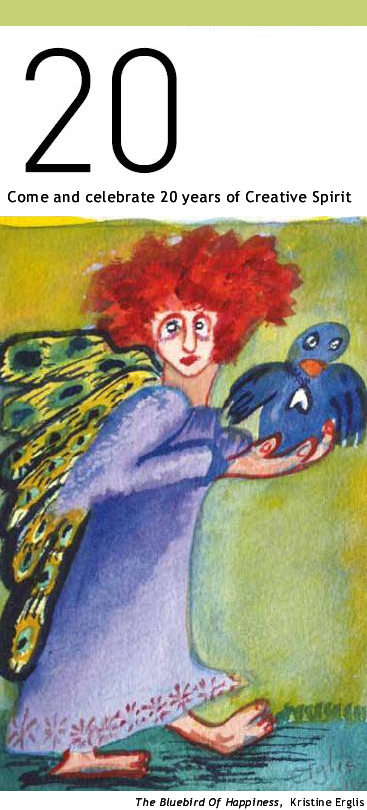 Please join our 20th anniversary celebrations and meet the artists, Board of Directors, volunteers, patrons and friends who shape and inspire our unique, creative community. Your generous spirit, and the generosity of many others like you, has enriched us with skills, time, money, art supplies and kindness.
Together, we create a creative oasis where artists living with medical issues can make, exhibit and sell their art.
The image for our invitation is a 2002 work called "The Bluebird of
Happiness" by Kristine Erglis. It is a metaphor for our own happi ness on turning 20!
View the art and photos of Creative Spirit artists from over 20 years including: Gabe Anderson, Robert Anderson, Meiko Ando, Gilles Arseneault, Janet Basmadjian, Edie Beck, Michele Carlton, Joe Duffy, Kristine Erglis, Glenda Hird, Mark Humenyk, Ann Hrinco, Cynthia Kemerer, Will Kennedy, Marc Labonte, Joan LaMantia, Catharine Little, Zoltan Noeh, Martin Owen, Hanni Sager, Jai Wax, Barry Woo, Vitali Zelinski and many, many more.
We started back in April 1992 with a grant from the Ontario Office of Disability Issues; with enough money (approximately $10,000), to run for one year.
Creative Spirit Art Centre exists because of the goodwill and support over the years from individuals, businesses, patrons, foundations, granting agencies and corporations.
We thank you and everyone who have helped in the past and who continue to help us deliver our services as a universally accessible public art gallery /studio /resource and information centre and gift shop.
These generous supporters include:
The Ben and Hilda Katz Foundation, The George Lunan Foundation, The Lunenfeld Foundation, CANON Canada, Stanfield's, Shoppers Drug Mart, Royal Bank of Canada, The Westaway Foundation, The Jackman Foundation, Howard and Carole Tanenbaum Family Charitable Foundation, Ontario Trillium Foundation/La Foundation Trillium De L'Ontario, Better Day Alliance Foundation, Toronto Art Council, Ontario Arts Council, Canada Council for the Arts/ Conseil des arts du Canada, Ontario Office for Disability Issues, Ministry of Citizenship, Ontario Ministry of Culture, Tourism and Recreation, The Municipality of Metropolitan Toronto, Metro Toronto Cultural Affairs Division, Human Resources and Skills Development, Canada, The Department of Canadian Heritage, Dedora Framing, Dorset Fine Arts, La Parete Gallery, Lonsdale Gallery, The Japanese Paper Place, New Canadians Lumber/Home Hardware Wiener's Home Hardware, Italiano Woodworx, McKaskell Haindl, Design Build, Sumi & Tak Yamasaki, Ellen Anderson, Robert J. Anderson, Gabe Anderson, Christopher Anderson, Brennan Anderson, Michael Seary, Dena Perlmutar, Marilyn Goldberg, Brenda Hoffert, Chad Wolfond, Sara Knelman, Shelly Zippin, Marc, Peter and Cynthia Kemerer, Eva Swenson, Martha Shuttleworth, Tom Roach, Hanni Sager, Janet Basmadjian, Arlette Adam, Nancy Jacobi, Scott McCallum, JoAnne Stanton, Janet Csontos, Julie Nash, Nora Webb, Gavin Barrett, Deb Cochrane, Barrett and Welsh, Michael D'Amico, Richard Picton, Gary Rawlings, Vivian Darroch-Lozowski, Taylor Mathewson, Jane Jacobson, Cosmo Barranca, Dominic Barranca, Avrom Isaacs, Norma Isaacs, Renann Isaacs, Aaron Tucker, Carlo Bertotti, Barbara Geiger, Kate Robertson, Christine Griffiths, Ana Beatriz Bahia Lungtor Gyatso, Yuriko Kubota, Laura Wittholtz, Ritchelle Rala, Michelle L.Thompson, Reza Safaei, Mario Paraselli, Linsay Collins, Will Kennedy, Erella Ganon, Robert & Yolanda Cuch, Adriana Limongi, Werner Schmidt, Sylvie D'Addario, Robert Brandeis, Mary Knox, Roger Knox, Jan Swinburne, Gwen Swinburne, Normand LaPointe Jennifer Donnelly, Concetta Principe, Bonnie & Timothy McGee, Dorothea Fox Jakob, Jennifer M. Ross, Laurie Matheson, Lee L'Clerc, Cyril Greenland, Peter & Denise Reid, PhD, Melanie Nash, Ryan Kerr & Barbara Center, Donald Davis, James Turner, Shirley Sinclair, Ronnie Burbank, Ann Black, Margaret Norquay, Robert J. Norquay, Caroline Archer, Meiko Ando, Joe Duffy, Barry Woo, Bill Kolengas, Kristine Erglis, Edie Beck, Jo Ellen Brydon, Lynn Mcllvride Evans, Janos Buda, Michele Carlton, Ace Chapman, Paul De Guzman, Lucie Duclos, Susan Jackson, Naomi Laufer, Eduardo Hatch, Joan La Mantia, Gian Luigi Mazza, Zoltan Noeh, Ella Ricketts, Tim Rowatt, Ajinder Pal Singh, Allison Sletcher, Johannes Von Bezold, Sandy Brand, Anne Abbott, Tom Martin, Anna Smyth, Lynn Bremner, Alan Parker, Jai Wax, Sheila Smith, Nancy Kravalis, Natalie Wood, Councillor Mike Layton, Ann Hrinco, David Walsh, Glenda Hird, Stephanie Nadler, Spirit Synott, Conrad Kugler, Alain Shain, Rose Jacobson, Jack Homer, Luis Fernandez, The Parent-Child Mother Goose Program, Ceilia Lottridge, Daybreak, Craft Studio, L'Arche, Richmond Hill, VSA arts International, Museum of American Folk Art, NYC, NIAD, National Institute of Art and Disabilities, Elias Katz PhD., Vision sur l'art, Lillianne Poteet, Audrey MacGregor, Womens Art Resource Centre, Linda Abrahams, Creative Works Studio, St. Michael's Hospital, Isabel Fryszberg, The Clarke Institute, Dr. Mary Seeman, CAMH Centre for Addiction and Mental Health, Lisa Brown, Spiral Garden, Paul Hogan, CBC, Sunday Arts Entertainment, Andrew Johnson, Patricia Odette,  Patrimoine canadien, Andy Hoag, Gail Geltner, Judy Richardson, Mendelson Joe, Guy & Jan Simser, Stubbe Chocolates, Marion Cohen, Ken Finkleman and many more!
Please, let me know if I forgot to put you on the list. You are welcome to e mail, phone or fax and ask to be put onto our list.
I will add your name; just let me know.
Ellen Anderson
Founder
2012