Hanni Sager Mexican Folk Toy Collection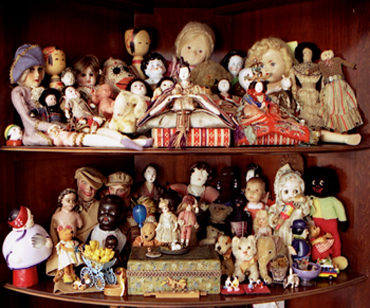 Living in San Agustín Etla is an extraordinary person called Hanni Sager. Hanni is a world treasure. For many years, she's suffered from muscular dystrophy - a serious and painful disease - and she's severely disabled by it. But it's only her body that's suffering, not her mind and spirit, which are deeply healthy. She's a model for us all.
Hanni was born and brought up in Switzerland, moved to Canada and became a naturalized citizen. There she ultimately became known as Toronto's Toy Lady. She amassed a first-class collection of toys from around the world, showed them in exhibitions, and gave lectures about them.
Annually for ten years, she put on wonderfully imaginative and hugely popular programs at Toronto's cultural center, Harbourfront. They all centered on toys and play, among them a teddy bears' picnic and a play doll-and-toy hospital where in a real ambulance not-so-real doctors and nurses dispensed prescriptions like "three hugs and a bedtime story" for ailing toys. Photographs by Ronnie Burbank.(scroll down for more pictures; click on a picture to activate slideshow). Update: The Toys have found a new home as part of The Royal Ontario Museum Permanent Collection.
| | | |
| --- | --- | --- |
| Submitted by creativespirit on Sat, 02/14/2009 - 12:59 | Submitted by creativespirit on Sat, 02/14/2009 - 13:25 | Submitted by creativespirit on Sat, 02/14/2009 - 14:13 |
| Submitted by creativespirit on Sat, 02/14/2009 - 14:13 | Submitted by creativespirit on Sat, 02/14/2009 - 14:14 | Submitted by creativespirit on Sat, 02/14/2009 - 14:14 |
| Submitted by creativespirit on Sat, 02/14/2009 - 14:15 | Submitted by creativespirit on Sat, 02/14/2009 - 14:16 | Submitted by creativespirit on Sat, 02/14/2009 - 14:16 |
| Submitted by creativespirit on Sat, 02/14/2009 - 14:17 | Submitted by creativespirit on Sat, 02/14/2009 - 14:17 | Submitted by creativespirit on Sat, 02/14/2009 - 14:18 |
| Submitted by creativespirit on Sat, 02/14/2009 - 14:18 | Submitted by creativespirit on Sat, 02/14/2009 - 14:19 | Submitted by creativespirit on Sat, 02/14/2009 - 14:20 |
| Submitted by creativespirit on Sat, 02/14/2009 - 14:20 | Submitted by creativespirit on Sat, 02/14/2009 - 14:44 | Submitted by creativespirit on Sat, 02/14/2009 - 14:44 |
| Submitted by creativespirit on Sat, 02/14/2009 - 14:45 | Submitted by creativespirit on Sat, 02/14/2009 - 14:46 | Submitted by creativespirit on Sat, 02/14/2009 - 14:46 |
| Submitted by creativespirit on Sat, 02/14/2009 - 14:47 | Submitted by creativespirit on Sat, 02/14/2009 - 14:47 | Submitted by creativespirit on Sat, 02/14/2009 - 14:48 |
| Submitted by creativespirit on Sun, 02/15/2009 - 12:29 | Submitted by creativespirit on Sun, 02/15/2009 - 12:30 | Submitted by creativespirit on Sun, 02/15/2009 - 12:31 |
| Submitted by creativespirit on Sun, 02/15/2009 - 12:31 | Submitted by creativespirit on Sun, 02/15/2009 - 12:32 | Submitted by creativespirit on Sun, 02/15/2009 - 12:32 |
| Submitted by creativespirit on Sun, 02/15/2009 - 12:33 | Submitted by creativespirit on Sun, 02/15/2009 - 12:33 | Submitted by creativespirit on Sun, 02/15/2009 - 12:34 |
| Submitted by creativespirit on Sun, 02/15/2009 - 12:34 | Submitted by creativespirit on Sun, 02/15/2009 - 12:35 | Submitted by creativespirit on Sun, 02/15/2009 - 12:35 |
| Submitted by creativespirit on Sun, 02/15/2009 - 12:36 | Submitted by creativespirit on Sun, 02/15/2009 - 12:36 | Submitted by creativespirit on Sun, 02/15/2009 - 12:37 |
| Submitted by creativespirit on Sun, 02/15/2009 - 12:37 | Submitted by creativespirit on Sun, 02/15/2009 - 12:37 | Submitted by creativespirit on Sun, 02/15/2009 - 12:38 |
| Submitted by creativespirit on Sun, 02/15/2009 - 12:38 | Submitted by creativespirit on Sun, 02/15/2009 - 12:38 | Submitted by creativespirit on Sun, 02/15/2009 - 12:39 |
| Submitted by creativespirit on Sun, 02/15/2009 - 12:39 | Submitted by creativespirit on Sun, 02/15/2009 - 12:40 | Submitted by creativespirit on Sun, 02/15/2009 - 12:40 |
| Submitted by creativespirit on Sun, 02/15/2009 - 12:41 | Submitted by creativespirit on Sun, 02/15/2009 - 12:41 | Submitted by creativespirit on Sun, 02/15/2009 - 12:42 |
| Submitted by creativespirit on Sun, 02/15/2009 - 12:42 | Submitted by creativespirit on Sun, 02/15/2009 - 12:43 | Submitted by creativespirit on Sun, 02/15/2009 - 12:43 |
| Submitted by creativespirit on Sun, 02/15/2009 - 12:44 | Submitted by creativespirit on Sun, 02/15/2009 - 12:44 | Submitted by creativespirit on Sun, 02/15/2009 - 12:45 |
| Submitted by creativespirit on Sun, 02/15/2009 - 12:46 | Submitted by creativespirit on Sun, 02/15/2009 - 12:46 | Submitted by creativespirit on Sun, 02/15/2009 - 12:47 |
| Submitted by creativespirit on Sun, 02/15/2009 - 12:47 | Submitted by creativespirit on Sun, 02/15/2009 - 12:48 | Submitted by creativespirit on Sun, 02/15/2009 - 12:48 |
| Submitted by creativespirit on Sun, 02/15/2009 - 12:48 | Submitted by creativespirit on Sun, 02/15/2009 - 12:49 | Submitted by creativespirit on Sun, 02/15/2009 - 12:49 |