Past Exhibitions
Past Exhibitions
See our extensive list of past exhibitions and events by visiting here!
Dovercourt Village Art Studio Tour
June 15, 16 & 17, 2012
You are invited to participate in a new neighbourhood arts and crafts tour. Sponsored by the Dovercourt Village BIA, (Business Improvement Area), we invite you to meet and support local artists and artisans in a variety of locations in the neighbourhood. At Creative Spirit we are hosting the work of Sharon L Clarke (beaded earings, quill work, dream catchers) as well as paintings by Glenda Hird.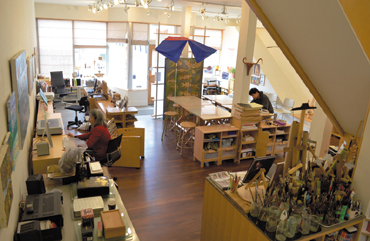 A total of 9 artists in 6 locations will exhibit their work, June 15, 16 & 17. Friday 6 - 9 p.m., Saturday and Sunday 11 a.m. - 4 p.m.
participating artists including:
Joy Eliuk: Joy Pottery, Ceramic Artist. Functional wheel thrown ceramics inspired by natural forms, jewelry, and ornaments. 292 Delaware Ave. 416.516.6072 joy-pottery.com joypottery@gmail.com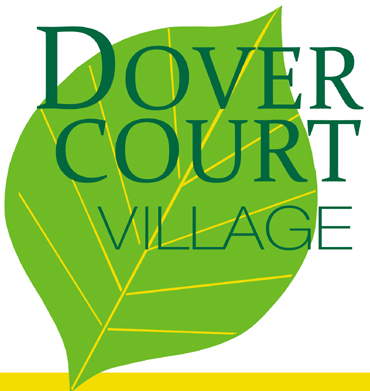 Jim Cobban, Artist
Landscape/oil on board or canvas,
804 Ossington Ave.
647.624.8123
jimcobban@hotmail.com
Serge Fortin, Ironage Design,
Art metal work,
1024 Dupont St. Unit 4 (2nd Floor)
416.535.0095
fax 416.535.8684
ironagedesign@hotmail.com
Lucas J Baker, Fine Furniture and Cabinetry, Custom Design,
1024 Dupont St., Unit 8
416.535.6059
lucasjbaker@gmail.com
lucasjbaker.com
Yoko Nomura, Artist,
602 Concord Ave., Basement
(Concord Ave. and Dupont)
647.377.1945 
yokonicole@yahoo.com
grispoppit.wordpress.com
Richard David Rogers & Natakarn Chanapoi
Wood carvings/paintings, bird houses and planters.
947 Dupont St. Unit #2
416.320.7748  ae-natakarn@hotmail.co.th
Creative Spirit Art Centre
Public art gallery/studio
999 Dovercourt Road, 416.588.8801
Sharon L Clarke (Clarke-29@hotmail.com) & Glenda Hird, Paintings
also an exhibition by Creative Spirit Artists
A flyer with a studio list and map including a Dovercourt Village business directory is available at Creative Spirit Art Centre. All artists are responsible for the content and sale of their own work. Come out and meet the artists!
2011 Creative Spirit Arts Festival
Creative Spirit Art Centre's festival, exhibition and conference will present the issues of development in the world of Art and disabilities. All conference/festival/exhibition events take place at 999 Dovercourt Road.
This will be a prelude to our April/ May 20 year Retrospective/Celebration of our pioneer journey as a public art gallery and studio with a focus on Universal Access to visual and media arts and integration into the Fine Arts Community.
The academic community and individual artist members include Denise Reid PhD. O.T. University of Toronto; Ellen Anderson, founder CSAC; Debbie Dew, The Craft Workshop, L'ARCHE".
CREATIVE SPIRIT ART CENTRE FESTIVAL/CONFERENCE/EXHIBITION
October 27, 28, 29, 2011
All conference/festival/exhibition events take place at 999 Dovercourt Road.
Performers:
Thursday, October 27
10 a.m.   

The Craft Studio

& Day Break, L'ARCHE, Richmond Hill
Debbie Dew: Presentation on The Craft Studio with Q.& A.

11 a.m.    Denise Reid, PhD. Professor, Dept. of Occupational Science and Occupational

Therapy, University of Toronto Research Project at the Creative Spirit Art Centre
12 p.m. Lunch
1:30 p.m.  Bunny Brown and Michael D'Amico (music performance followed by Q.& A.)
2:30 p.m.  Erella Ganon (multi-media artist)
Friday, October 28
10 a.m.       Documentaries:  Very Special Arts

"VSA arts 2004 International VSA arts Festival HIGHLIGHTS"

"VSA 2010 International VSA Festival Highlights"

"Straight From the Heart" Creative Spirit Art Centre

11 a.m.       Brenda Spielmann "Light Writers" Holland Bloorview
Kid's Rehabilitation Hospital
1:30 p.m.    Documentaries:
Humber College Film Studies, "Behind The Primary Colours"
Anne-Marie Rocher's "Gugging", on the famous Artists' House in Austria.
Saturday October 29
1 p.m.  

Alan Shain followed by a presentation

and DVD

of his experience with the


Propeller Dance Troupe (Ottawa).

3 p.m.   Roger Knox and Gilles Arseneault
4 p.m. – 9 p.m.  Frieda Khalo, Day of the Dead Altar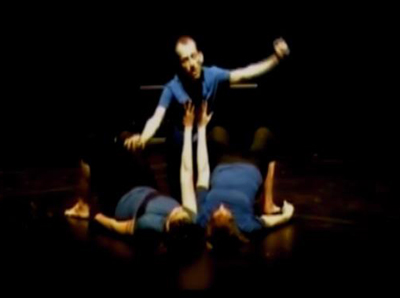 For more information contact Ellen Anderson at 416.588-8801 by phone or email us here at: csac@creativespirit.on.ca. We at the Creative Spirit Art Centre are pleased to acknowledge the support of the Ontario Arts Council for this year's Creative Spirit Arts Festival and Art exhibition.

Creative Spirit Art Club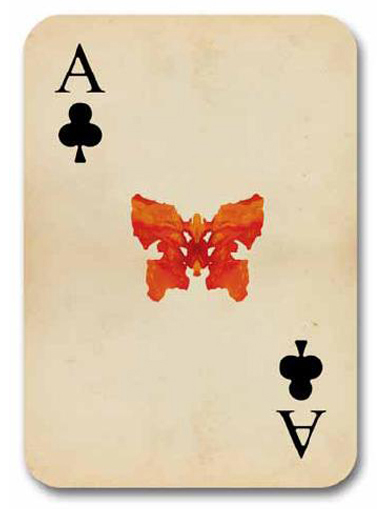 Opening Reception: Saturday June 4, 2011, 1 - 4 p.m.
New summer hours: see below
The Art Club salutes artists in communities around the world who band together to make, exhibit and sell their art. It celebrates the joy of a personal exploration of the human spirit.
Creative Spirit Art Centre artists often live with chronic and ongoing health issues. Art is the portal through which they can experience a freedom beyond the barriers of pain and illness. The art ranges from traditional to Art Brut and Outsider Art.
The works are affordable enough for beginning art collectors (some are unframed) and aesthetically sophisticated enough to
appeal to the most discriminating, seasoned art collector. A true collection of art is incomplete without a selection of Art Brut and Outsider Art.
Artists include: Meiko Ando, Gabe Anderson, Robert Anderson, Gilles Arseneault, Janet Basmadjian, Gus Bawab, Roselyne Chues, Will Kennedy, Catherine Little, Marc Labonte, Martin Owen, Jai Wax, Kristine Erglis, Peter Smith, Vitali Zelinski, Zoltan Noeh, Barry Woo and many more.
Hours: Tuesday thru Friday – 10 am to 5 pm
Saturdays in June – 1 pm to 4 pm • Saturdays in July – CLOSED
999 Dovercourt Road, Toronto, ON. M6H 2X7
T: 416.588.8801 • F: 416.588.8966
Happy Birthday!
Celebrating 19 years of Creative Spirit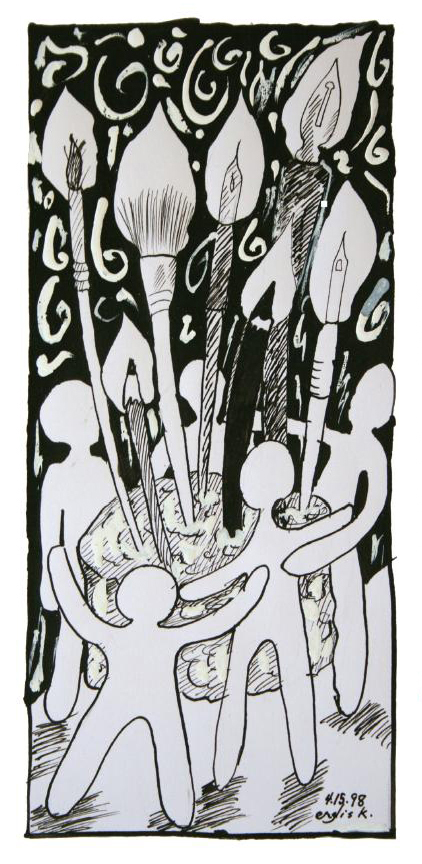 April 9 to May 19, 2011
Opening reception Saturday April 9, from 2 to 5 p.m.
Art makes the disability invisible. Art allows hearts and inner expressions to speak in fabulous colours and dancing shapes.
We are a small charity and public art gallery/studio which exists because people like you continue to believe that everyone has a right to freedom of expression and culture regardless of their
medical labels and limitations.
Please join us to celebrate, meet the artists, volunteers, donors and supporters and see the art work.
Renew your membership to the circle of Creative Spirit friends.
Creative Spirit Artists Integrated Community includes:
Gabe Anderson, Meiko Ando, Robert Anderson, Gilles Arseneault, Lynn Bremner, Kristine Erglis, Catherine Little, Marc Labonte, Martin Owen, Hanni Sager, Jai Wax, Alan Parker, Barry Woo, Glenda Hird, Ann Hrinco, Cynthia Kemerer, William Kennedy, Vitali Zelinsky and many others.
(original artwork by Kristine Erglis)
Canadian Art Brut

We invite you to the opening reception for our new exhibit, Canadian Art Brut, this Saturday, February 19 from 2 - 5 p.m.
Hope to see you there!
In other news we'd like to mention that our affiliate in Washington DC, VSA, the international organization on arts and disability, have announced an international juried exhibition call for art for artists ages 18 and older who have a physical, cognitive, or mental disability. Artists are invited to submit up to four artworks of any media that address the theme of SHIFT – an investigation of a moment of change in one's life that alters the direction of a person's path.
SHIFT: Deadline for submissions: March 11, 2011
Selected artwork will be exhibited at the John F. Kennedy Center in Washington DC in June 2011. For more info: www.vsarts.org/shift
.
Hanni Sager, The Toy Lady

Saturday October 30 - Saturday January 29, 2011
The pleasure of play has always inspired Hanni Sager. Trained as a fashion designer in her native Switzerland, Sager immigrated to Canada as a young woman in the late 1950s. Sager developed and ran toy-making workshops at Toronto's Harbourfront Centre for the Arts. Her efforts and enthusiasm eventually earned her the moniker of Toronto's Toy Lady.
For many years Sager has been severely disabled by muscular dystrophy and has to wear multiple body braces which limit and constrict her movement. Every winter Sager travelled to Mexico to escape Canada's harsh winters and the discomfort it caused her. Her love of play and interest in toys led her to seek out traditional folk toys on her yearly visits to Mexico. Eventually Sager moved to Mexico and took up permanent residence in Oaxaca where she discovered she was living next to a home for disabled orphans. Once again, the Toy Lady took it upon herself to inspire and enable children through the power of play. In Mexico her toy-making workshops became vital to the lives of the children involved by giving them the means to alter the course of their lives. Through her dedicated work and boundless enthusiasm Sager presented the children with an outlet for imagination and creativity as well as a sense of empowerment and pride.
Hanni believes that "the toy is the first art object in a person's life." The result of her many years of research and discovery, the Hanni Sager Folk Toy Collection presents many examples of exquisite and unique 'first art objects.' The Hanni Sager Folk Toy Collection, now housed at Creative Spirit Art Centre, is the Toy Lady's legacy in Toronto, a source of inspiration for children, adults and artists and above all a celebration of the pure pleasure of play.
Hanni Sager, The Toy Lady is an exhibition of art dolls by the artist available for sale as well as selections from her Mexican Folk Toy Collection. Her new doll series includes; Shapes and Shadows, each fibre doll hides behind a tiny clay mask from the Oaxaca markets; Hecho en Oaxaca, dolls crafted from the ubiquitous rebozo the most important piece of clothing in the life of a Mexican woman; and finally I Dreamt I was a Mushroom, Hanni says "To me the colours of mushrooms alone are enough to hallucinate on! Sometimes I meet people who look just like them." More about Hanni Sager's Toy Collection here.
(Creative Spirit would like to thank The Japanese Paper Place, New Canadians Home Building Centre and Italiano Woodworx for sponsorship of Hanni Sager, The Toy Lady)
Screen Test
As part of the Creative Spirit Arts Festival, member artists both with and without disabilities each worked to produce a set of three canvasses. Each artist's canvasses are displayed together to form a screen.
Curated by Ellen Anderson, this exhibition explores the idea that artists with disabilities are forced to go through various screening processes. Not only are they measured according to their artistic capabilities and talents but they are also forced to undergo medical scrutiny and social examination.
Challenged to work in this large format, all seventeen artists rose to the challenge and the resulting exhibition is a impressive testament to the power and possibilities of creative self-expression. October 2 - 23, Closing party Saturday October 23, 2 - 5 p.m.
Queen of Tears, The art of Kristine Erglis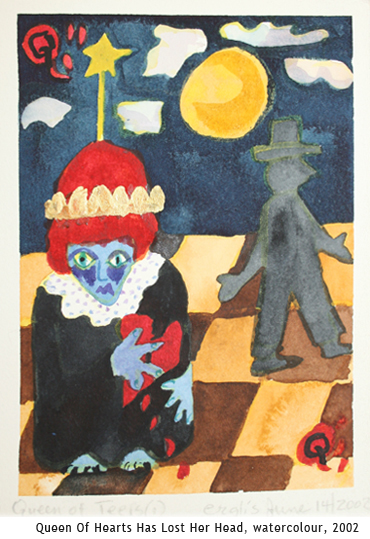 September 11 – 25, 2010 Kristine Erglis is a natural artist. "I love painting," she says. "The sheer thrill of what I can create with my ink pots and water colours...Magical leapfrog in Wonderland... Jumping from idea to idea and once it starts it never stops."
Kristine's artistic vision and output changed dramatically after her mental health diagnosis. Her work documents the angst, turmoil, anguish and other changes wrought on her life as a result of this diagnosis. Her paintings document her inner state. The viewer often recognizes the moods, the emotions. She makes them visible with vibrant colours and metaphorical images which distil the very essence of our needs, fears, dreams and nightmares. She picks up on lyrics from songs and we see whimsical appearances of "Angels with Dirty Faces,"" Mermaids" and people "Waiting at A Bus Stop", in rain, in snow, is all sorts of very Canadian weather.
Kristine lives in Halifax, Nova Scotia where she works as a painter, printmaker, and writer and is an active member of the Pedway Gallery and Creative Spirit East as well as Creative Spirit Art Centre in Toronto.
Works In Progress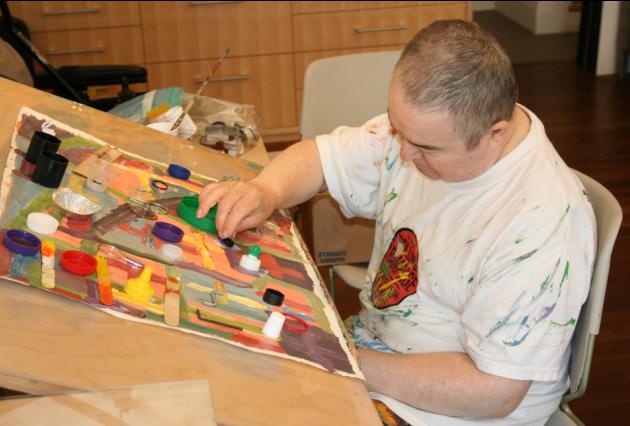 Every week at Creative Spirit we support a roster of new and emerging artists in our studio by offering them space, supplies and support. When given access to creative expression it's amazing what these individuals are capable of creating.
We're celebrating our studio artists with an exhibition showcasing their recent work. Works In Progress will be a chance for our studio artists to show off the fruit of their labour and let friends and family share in their artistic successes. Please join us Saturday July 10th, 2010 with exhibiting artists including:
GABE ANDERSON, DOROTHEA JAKOB, GRAZIA MERIGIOLI,
GILLES ARSENEAULT (photo above), MARC ANDRE LABONTE, MARTIN OWEN,
GLENDA HIRD, CATHARINE LITTLE, SHIRLEY SINCLAIR
Land, marks.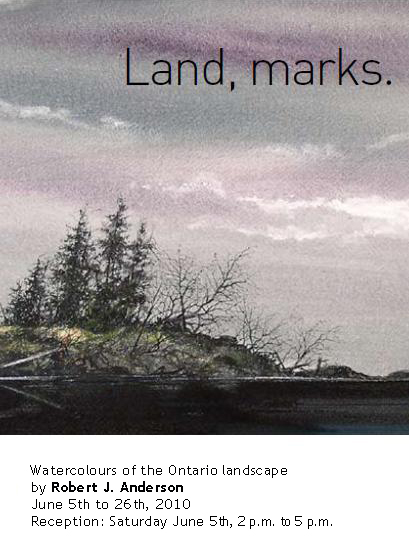 Watercolours of the Ontario Landscape by Robert J. Anderson
June 5th - 26th, 2010
Ontario's landscape has always captured artist Robert J. Anderson's imagination. Despite years of separation, a love affair with Abstract Expressionism and adventures abroad, Anderson's heart belongs to Ontario: the rocky shores, the naked trees of spring, and the solace of a northern lake at dawn.
Land, marks. is a collection of recent watercolour paintings of Anderson's dearest subject. Delicately rendered scenes transport the viewer to the edge of Lake Superior and Georgian Bay, to the wilds of Manitoulin Island and the Bruce Peninsula. Iconic Ontario moments are captured by Anderson's keen eye and precise hand: morning mist on frozen lakes, quiet winter mornings among pine trees and the dance of northern lights above a barren horizon.
OPENING RECEPTION
Please join us and artist Robert J. Anderson on Saturday June 5th from 2:00 – 5:00pm.
Cake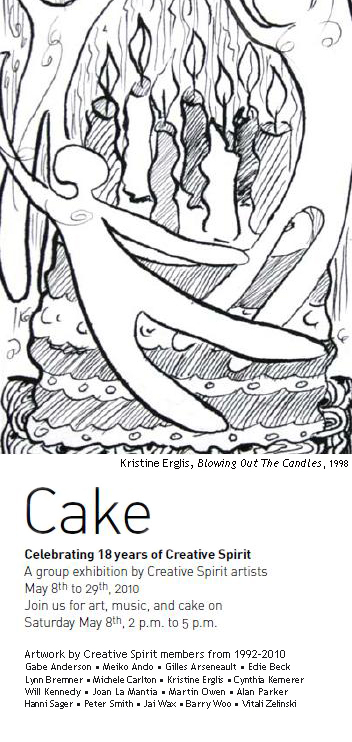 Celebrating 18 years of Creative Spirit!
May 8 - 29, 2010

Creative Spirit Art Centre turns 18 this year! Since 1992 we have been empowering artists with disabilities through access to creative expression – and we couldn't have done it without your support!
As a registered charity working in an often over-looked corner of the arts community we could not operate without the generous donations of art supplies, volunteer hours and monetary contributions of the community.
Please join us on Saturday May 8th from 2:00 – 5:00pm to help us celebrate 18 years of Creative Spirit with cake, live music and an exhibition of artwork by Creative Spirit artists past and present.
Abstract Biomorphism by Vitali Zelinski
The exhibition Biomorphism and Abstract Vision by artist Vitali Zelinksi, will hold over forty idiosyncratic, artworks done on canvas (2008 to 2010).
Please join us for the opening reception Saturday April 10, 2-5 p.m.
For more about Vitali visit his site here
.

Brut Force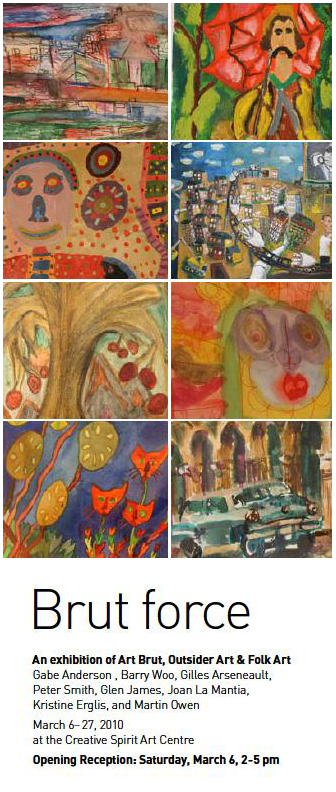 An exhibition of Art Brut, Outsider Art & Folk Art, March 6 - 27, 2010
This exhibition celebrates three often overlooked genres of art-making: Art Brut, Outsider Art and Folk Art. Featuring selections from Creative Spirit Art Centre's extensive permanent collection, Brut Force showcases the work of Gabe Anderson, Barry Woo, Gilles Arseneault, Peter Smith, Glen James, Joan La Mantia, Kristine Erglis and Martin Owen.
Please join us for the Opening Reception on Saturday March 6 from 2 – 5 pm.
Straight From The Heart 2010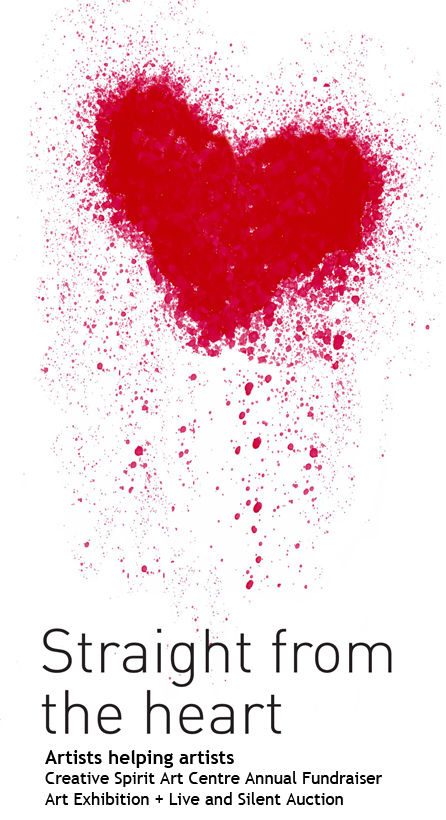 Creative Spirit Art Centre cordially invites you to Straight from the Heart, our annual art exhibition and auction. Preview the wonderful artworks by established and emerging Canadian artists and other cultural goodies from February 6th to 12th and pick out what you plan to bid on during our exciting live auction on Saturday February 13th from 2 – 5 pm. Artists include: Gabe Anderson, Robert J. Anderson, Meiko Ando, Gilles Arseneault, Janet Basmadjian, Jay Bell Redbird, Cape Dorset Artists, Kristine Erglis, Brenda Hoffert, Cynthia Kemerer, Will Kennedy, Patricia Magosse, Zoltan Noeh, Martin Owen, Peter Smith, Vitali Zelinski and many others.
These artists, along with art dealers, Toronto arts organiza-tions and our amazing volunteers provide vital support to Creative Spirit Art Centre through this event and throughout the year. Their generosity allows us to provide services and support to artists with disabilities and in doing so, enable us all.
Wax Impressions new paintings by Jai Wax
Creative Spirit is proud to present Wax Impressions, new paintings by artist Jai Wax.
Opening reception: Saturday January 9, 2010 from 2-5pm with the artist in attendance.
The multi-talented Wax expresses himself through words in poetry as well as oils on canvas. Working through a stream of consciousness method, Wax's paintings burst with diverse symbols and images ranging from Hindu gods to superheroes, Mr. Spock to traditional landscapes.
Wax's new works will be on display from January 9 - 30, 2010.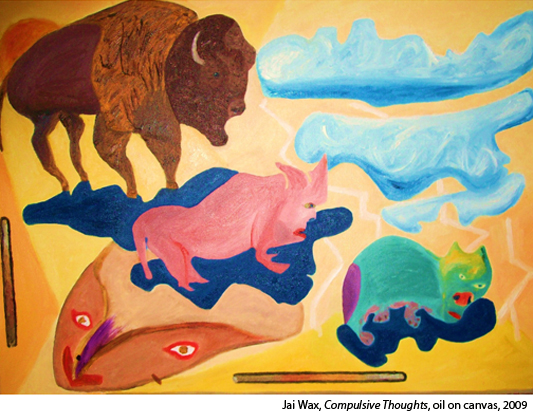 Deck The Walls 2009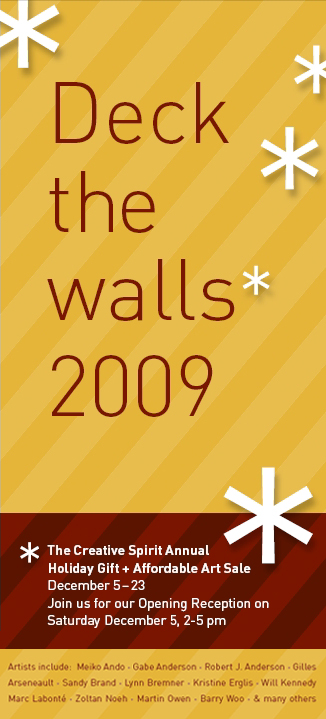 Please join us for Deck The Walls 2009, our Annual Holiday Gift & Affordable Art Sale.
December 5-23, 2009
The exhibition features work by Meiko Ando, Gabe Anderson, Gilles Arsenault, Robert J. Anderson, Sandy Brand, Lynn Bremner, Kristine Erglis, Will Kennedy, Mark Labonté, Martin Owen, Zoltan Noeh, Barry Woo and many others!
.
Personal Icons: Intimate portraits by Cynthia Kemerer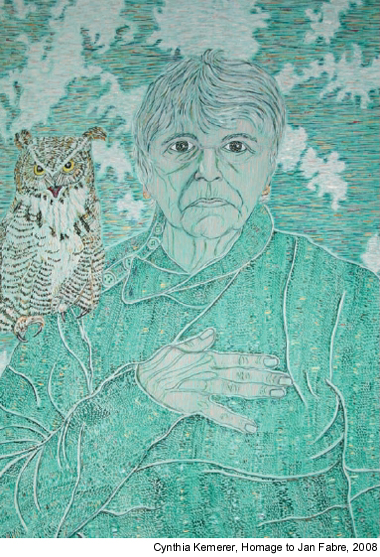 November 5 - 28, 2009 at  Creative Spirit Art Centre.
.
Attraction Reaction - Magosse & Kennedy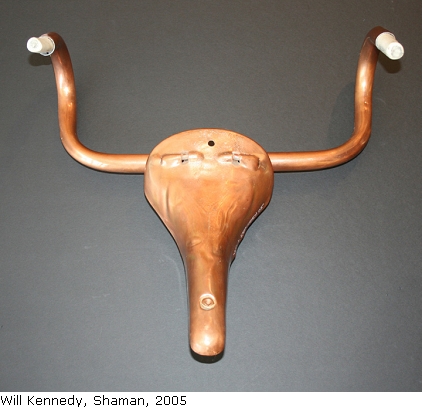 Attraction Reaction - October 3rd to 24th, 2009 featuring artists Patricia Magosse and Will Kennedy at the Creative Spirit Art Centre.
Gabe Anderson, Meiko Ando & Joan La Mantia
September 8 - 30, 2009 Opening reception: Saturday September 12, 2 - 5 p.m.
Creative Spirit Art Centre is opening its fall season with an exhibition of the () power of 3
The three artists are: Meiko Ando, Gabe Anderson, and Joan La Mantia.
Creative Spirit was founded because Gabe and other artists with disabilities needed a place to make, exhibit and sell their art.
Gabe has cerebral palsy, developmental disabilities and epilepsy.
Meiko Ando was a professional dancer with the BUTOH dance troupe until rheumatoid arthritis ended her dance career prematurely. She became a printmaker.
Joan La Mantia is an artist who lives with Down's syndrome.
Please come and see the exhibition. The works cover a wide range in expression and affordability and make wonderful gifts. I look forward to seeing you.
Thank you,
Ellen Anderson,
Executive Director
Kindred Spirits
An integrated exhibition of Creative Spirit Artists, July 4-30th 2009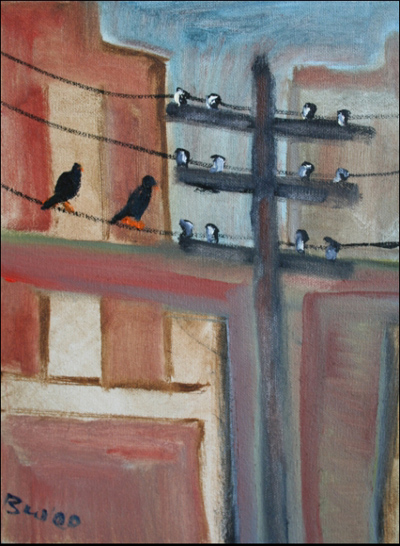 Artists including: Meiko Ando, Gabe Anderson, Robert J. Anderson, Gilles Arseneault, Michael D'Amico, Kristine Erglis, Glenda Hird, Brenda Hoffert, Ann Hrinco, Cynthia Kemerer, Joan La Mantia, Catharine Little, Martin Owen, Werner Schmidt, Barry Woo and many others.
Birds of a Feather, n.d. 9 x 12" by Barry Woo.
Submitted by Michael on Fri, 05/29/2009 - 07:46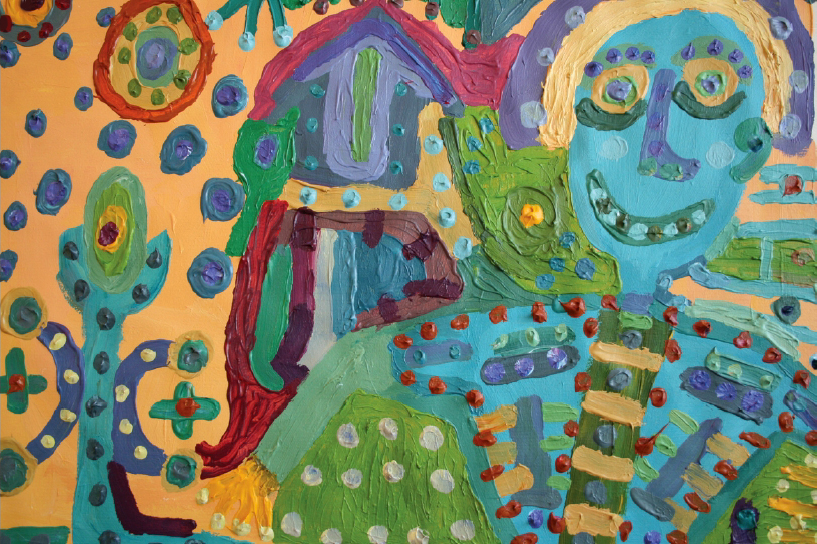 The Art and Philosophy of
Gilles Arseneault,
June 6 - 26, 2009
Martin - O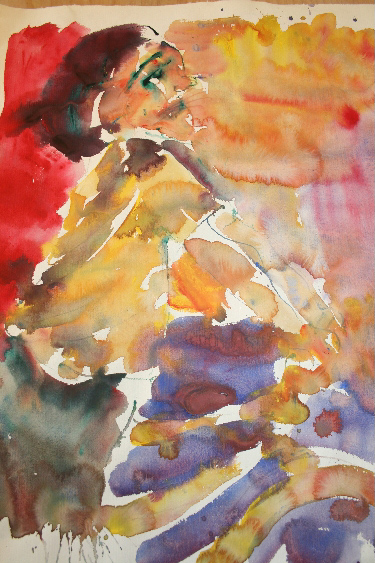 Martin Owen
Watercolours and Drawings
May 5 - 30, 2009
Martin Owen, Creative Spirit Centre artist since 1998,  presents a selection of works on paper from 2007 & '08 including Self-portrait (right).
Stephanie Nadler, Blood and Legacy
Understanding the Final Solution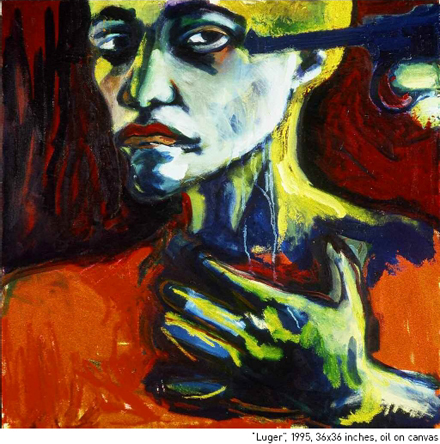 April 2-29, 2009
Blood and Legacy: Understanding the Final Solution presents Stephanie Nadler's in depth study of the Holocaust, from 1992-1995. The paintings and drawings included in the exhibition present the climate in the mid twentieth century that permitted the institutionalisation of genocide.
In 1994 Nadler was awarded a Canada Council Exploration Grant, so that she could record her cultural legacy through art. Stephanie has volunteered her time as an art facilitator at the Creative Spirit Art Centre for many years, supporting the voices of people who have been marginalized by medical, social and political boundaries.
For more information of this series and other works by Stephanie Nadler, please visit her website at www.stephanienadler.ca. The works in this exhibition are not for sale.
The eye and art of Vitali Zelinski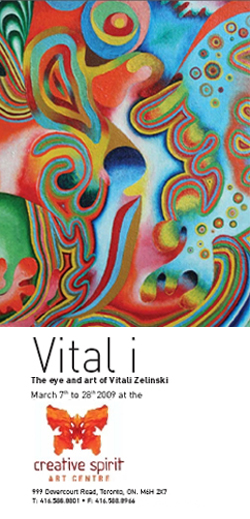 March 7th-28th 2009
Born in Russia in 1981 and currently residing in Toronto, Vitali Zelinski began painting years ago. His art is characterized by extreme attention to detail and a vivid, intense palette. Vitali works with oil and acrylic; fluorescent UV-reactive paints make rare appearances. Repetitive patterns and biomorphic shapes resembling marine organisms recur in these paintings inspired by the continuous swirl and flow of lines. Dali, Desmond Morris and Wassily Kandinsky are influences. 25 works will be on view with prices between 3 & $600, visit his website here for more: http://vitalizelinski.page.tl/
Straight From the Heart 2009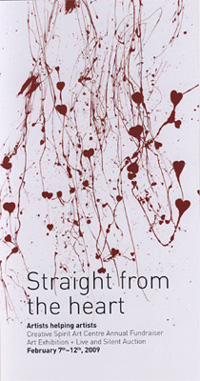 Artists helping artists Reception: 3–5pm, Saturday Feb 7th, 2009 Final bids for silent and live auction 8-8:30pm, February 12th, 2009 Creative Spirit Art Centre invites you to Straight from the Heart, our annual fundraising art exhibition and charity art auction. Take advantage of this excellent opportunity to acquire affordable, contemporary Canadian art by established, emerging and Creative Spirit Art Centre artists. Artists include: Meiko Ando, Gabe Anderson, Robert J. Anderson, Gilles Arseneault, Carl Beam, Lynn Bremner, Dorset Fine Arts (sculptors TBA), Kristine Erglis, Tony Feyer, Brooke Friendly, Richard Gorman, Andrew Hoag, Cynthia Kemerer, Will Kennedy, Lee L'Clerc, Virginia Luz, Mendelson Joe, Martin Owen, Mario Pariselli, Alan Parker, Richard Picton, Peter Smith, Barry Woo, Vitali Zelinski and many others. These artists, along with art collectors and dealers who also donate art to this event, support Creative Spirit artists with disabilities. In doing so, they enable us all.
Recalling the Land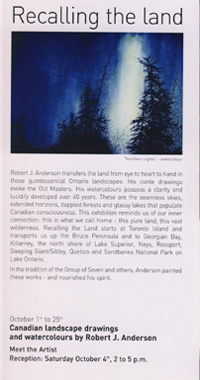 Robert J. Anderson October 1st - October 25th 2008 Robert J. Anderson transfers the land from eye to heart to hand in these quintessential Ontario landscapes. His conte drawings evoke the Old Masters. His watercolours possess a clarity and lucidity developed over 60 years. These are the seamless skies, extended horizons, dappled forests and glassy lakes that populate Canadian consciousness. This exhibition reminded us of our inner connection: this is what we call home - this pure land, this vast wilderness. Recalling the Land starts at Toronto Island and transports us up the Bruce Peninsula and to the Georgian Bay, Killarney, the north shore of Lake Superior, Neys, Rossport, Sleeping Giant/Silbey, Quetico and Sandbanks National Park on Lake Ontario. in the tradition of the Group of Seven and others, Anderson painted these works - and nourished his spirit. See works from the exhibition here: Recalling The Land - Robert J. Anderson
Outside Voices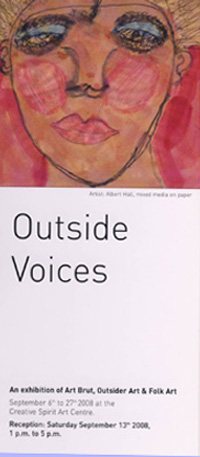 Various Artists
September 6th - September 27th 2008
An exhibition of Art Brut, Outsider Art & Folk Art
Art Brut, Outsider Art and Folk Art are the orphans of the art world. Orphans that are now finding homes in the public art galleries and private collections around the world. Creative Spirit was pleased to present an exhibition of Art Brut, Outsider Art & Folk Art from our permanent collection and recent acquisitions.
Drubbings & Sublimations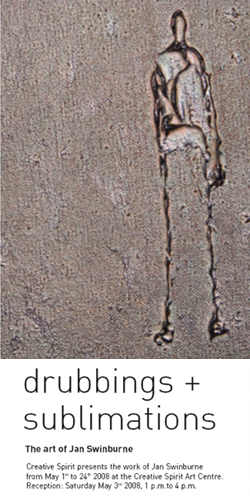 Jan Swinburne
May 1 - 24, 2008
reception Saurday May 3, 1 - 4 p.m.
The art of multi-media artist Jan Swinburne
(Also see Jan's articles here in resources re: Defining art facilitation and linguistic facility in the visual arts as well as more examples of her work.)
Open 24/7
Peter Smith March 4th - March 29th 2008 Creative Spirit presented Peter Smith's work March 4th - March 29th 2008, with a reception on March 8th 2008. (See Citypulse News item here)
From Madison Ave to the Madawaska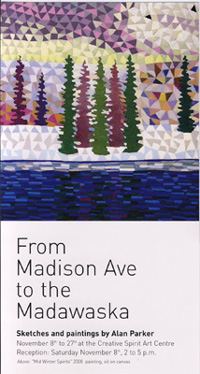 Alan Parker
November 8th - November 27th
Creative Spirit hosted sketches and paintings by Alan Parker from November 8th to November 27th. The included painting is oil on canvas and titled "Mid Winter Spirits."
Wax Works
Jai Wax
January 8th - January 26th 2007
The brute surrealism of Jai Wax
Creative Spirit presented the work of Jai Wax from January 8th through January 26th 2007. Toronto Star writer Christopher Hutsul declared Wax's paintings "subtle, gently perplexing paintings."
Woo Are We?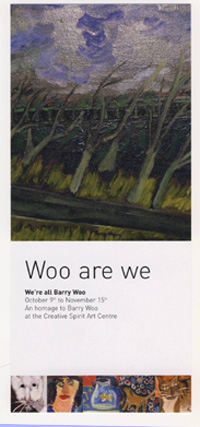 Barry Woo
October 9th - November 15th
A homage to Barry Woo
An artists of Chinese descent, Barry was born in 1946 in Toronto, Canada. Barry began painting when he was 35, working in oils, acrylics, watercolours and pastels. He loved Toronto; its beaches, Kensington Market, High park and the waterfront appear in many of his paintings. His cultural origins illuminate his work; figures of Buddha and images of Chinatown recur as motifs. He painted whatever gave him joy: his pet dog Gizmo, his many cats, his wife Linette. Barry was an artist with Creative Spirit Centre from 1992 until his death in 2005 and we remember him with pride and affection.