25th Creative Spirit Birthday Celebration!
Submitted by Vicki on Thu, 05/04/2017 - 12:42
Celebration: May 20, 2017, 1 to 3 pm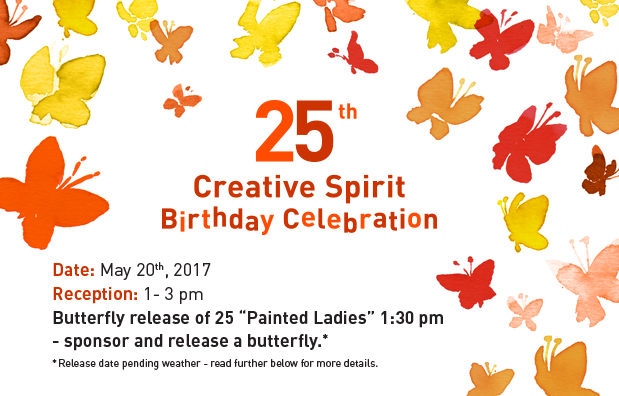 The CSAC logo is a "Blotterfly"
We will release 25 "Painted Ladies" (butterflies) to celebrate each year we've been supporting artists with disabilities through our universally accessible art studio; exhibitions, festivals and conferences. Butterflies go through metamorphosis. CSAC will also go through a metamorphosis or metamorph.
To sponsor and release a butterfly for $20, contact Ellen at: csac@creativespirit.on.ca
* PLEASE NOTE: If it rains or is too cold on Saturday, May 20, then the butterfly release will happen the next day, Sunday, May 21 at 1 pm. Alternatively, if the weather is awful for May 20 and May 21; the butterfly release will take place Saturday, June 24 at 1 pm - reception for Kristine Erglis' exhibition.
_______________________________

May 8 - May 26
Exhibition: Creative Spirit Artists through the years
Artists: Meiko Ando, Gabe Anderson, Robert J. Anderson, Gilles Arseneault, Janet Basmadjian, Maruja Bonilla, Glenn Cooper, Kristine Erglis, Orhan Guven, Jeff Halliday, Glen James, Alan Jack Hooks, Cynthia Kemerer, Will Kennedy, Marc La Bonté, Joan Lamantia, Alex Lazar, Catharine Louise Little, Michael Tam, David Tran, Barry Woo, Jai Wax, Vitale Zelinski.
____________________________

The Creative Spirit Art Centre, will "Meta Morph" at the end of this year.
We are planning stages for the next level for the protection of the collections and using the web site to provide on-going information on Art Brut, Outsider Art and Art and Disabilities. If you would like to join the professionals who are committed to the evolution of the "Creative Spirit" studio, public art gallery collections and resource and information centre, please contact Ellen at the art centre by e-mail or phone.
We hope to see you soon!
Warm regards,
Ellen and the Artist at the Creative Spirit Centre
__________________________________________________________________________________________________