Autism/Unframed/Reframed
Submitted by Vicki on Mon, 03/28/2016 - 13:23
Exhibition April 2 - 29th
Opening reception Saturday, April 2nd, 1:30 - 3:30 p.m.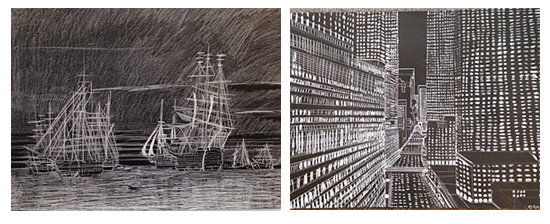 In honour of the United Nation's World Autism Awareness Day; April 2nd, Creative Spirit Art Centre presents artist, Orhan Guven's solo exhibition entitled "Autism/Unframed/Reframed". Orhan is a remarkably, talented artist who lives with autism. He creates works inspired by the cityscapes and architectural features of international cities of Toronto, New York City, Paris and Istanbul. His artwork explores the highly intricate relationship between perspective and structure.
Orhan's works are a part of the permanent collections of the Downtown Art Centre and the Exceptional Children's Foundation both located in Los Angeles. "Autism/Unframed/Reframed" will be his first solo exhibition in Toronto. We welcome you to see this highly transformative event which works to reframe negative misconceptions to positive realities about artists with autism.
Orhan's art demonstrates that the definition of Autism needs to be examined and redefined according to each individual diagnosed with autism spectrum disorder. In Orhan's world, the definition needs to be unframed and reframed on viewing his art work. Refocus and review your insight on Autism by seeing how Orhan provides a unique visual art experience.
_____________________________________________________________________________________________