Breaking out of Huronia
Submitted by Michael on Wed, 05/22/2013 - 12:19
The Judy Richardson Collection of art by Huronia Regional Centre residents.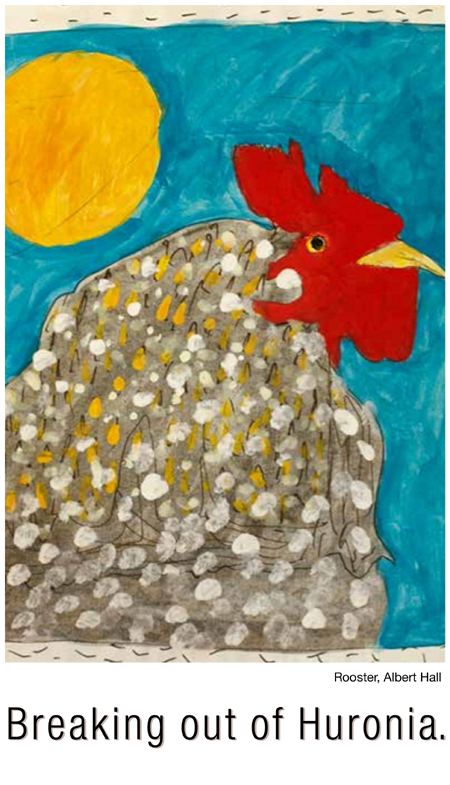 June 1 – July 26, 2013
Reception: Saturday, June 1, 2-4 p.m.
Creative Spirit is honoured to host artists whose works are in the exhibition and to reunite them with their art.
"Breaking out of Huronia" is a special exhibition to mark 21 years promoting art made by people on the lowest socio-economic rung whose long-term medical disabilities often leave them voiceless and without access to means for self-expression.
Thelma Wheatley, author of And Neither Have I Wings To Fly, Labeled And Locked Up In Canada's Oldest Institution will be the keynote speaker. Ontario's oldest institution for people with developmental disabilities.
The Orillia Asylum for Idiots opened in 1876. It was eventually renamed the Ontario Hospital School. Many years after that name;  It was known as the Huronia Regional Centre until it closed.
At its peak it had 2,600 residents. Former residents who were alleged to have been abused there are currently in a class action lawsuit against the provincial government.
Judy Richardson, a Huronia occupational therapist, believed art provided an important occupation for some residents. Albert Hall and Paul Sadgrove in particular created many works that give powerful voice to the human spirit even when confined. Creative Spirit was given these works by Judy's surviving husband on the condition that they never be for sale.
Paul Sadgrove, who is mute and deaf, continues to make art today. His family proudly supports his work and we are grateful for their permission to show and reproduce Paul's art.
Art is proof that our creative powers survive the harshest conditions. It testifies to our human experience, asserts our shared humanity; it is essential; it enriches us.
Please join us for the exhibition!
*On September 17, the Provincial government has agreed to a settlement of $35 million dollars and an official apology to the survivors of Huronia Regional Centre.
The Huronia Regional Centre closed in 2009.