Land, marks.
Submitted by Michael on Wed, 05/26/2010 - 09:55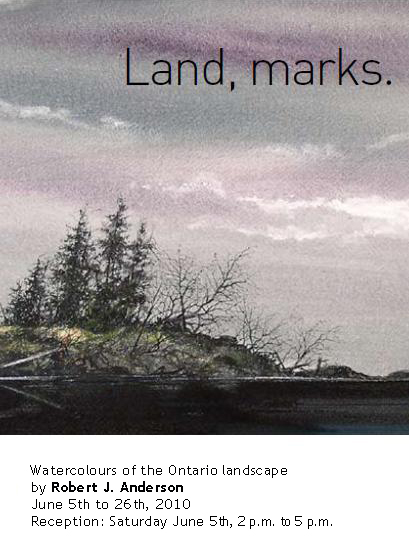 Watercolours of the Ontario Landscape by Robert J. Anderson
Ontario's landscape has always captured artist Robert J. Anderson's imagination. Despite years of separation, a love affair with Abstract Expressionism and adventures abroad, Anderson's heart belongs to Ontario: the rocky shores, the naked trees of spring, and the solace of a northern lake at dawn.
Land, marks. is a collection of recent watercolour paintings of Anderson's dearest subject. Delicately rendered scenes transport the viewer to the edge of Lake Superior and Georgian Bay, to the wilds of Manitoulin Island and the Bruce Peninsula. Iconic Ontario moments are captured by Anderson's keen eye and precise hand: morning mist on frozen lakes, quiet winter mornings among pine trees and the dance of northern lights above a barren horizon.
OPENING RECEPTION
Please join us, with artist Robert J. Anderson, on Saturday June 5th from 2:00 – 5:00pm.