Recycle, Reuse, Re-art
Submitted by Vicki on Mon, 11/23/2015 - 17:32
Nov. 28th 2015 - Jan. 29, 2016
Opening Reception: Saturday, November 28, 1 p.m. - 3:30 p.m.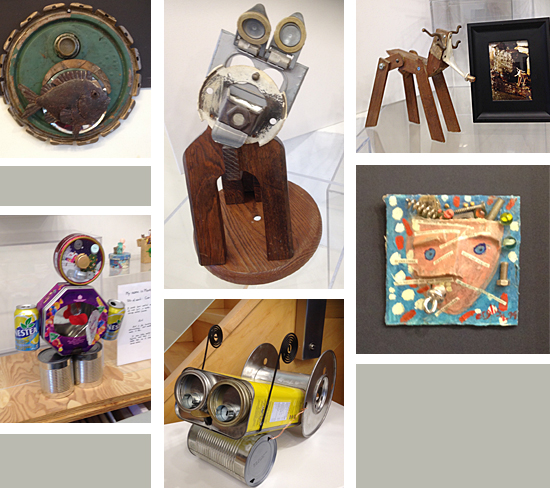 | Top left, clockwise: "Fish"- Werner Schmidt, "Dog"- Gary Earl Rawlings, "Reindeer"- Gary Earl Rawlings,
"This Medicine May Cause"- Kristine Erglis, "The Crouching Cricket"- Flora Wigg, "Can Man"- Monty Wigg |
An exhibition, sale and on-going project on creating art using the act of recycling everyday materials. A demonstration that one person's "useless stuff", or found objects, can be transformed by the imagination into a work of art.
Please, come and see art created by, "Friend of Butterfly"; William Kennedy; Gary Rawlings; Werner Schmidt; Peter Smith; Kristine Erglis; Families from Dovercourt Village including Flora and Monty Wigg ; Jaime Da Costa and Elizabeth Moon ; Douglas Archer; Creative Spirit Studio Artists; And Folk art from the Hanni Sager Mexican Folk Art Collection.
We hope to include more artists during the exhibition from Dec. to Jan.
Please make an appointment if you would like to come in and make some art with found objects!
Ellen and the Creative Spirit Art Centre Artists
____________________________________________________________________________________